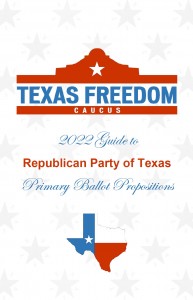 Fellow Texan,
It's that time of the year again! Just three months ago, we provided you with a guide to the November 2021 Texas Constitutional Amendment election. Each of those amendments passed and are now a part of the Texas Constitution. Now, in just a few weeks, we'll be gathering at the ballot box again to choose who will represent us in government and what types of policies those representatives will pursue.
Every March of even-numbered years in Texas, Texans also have the opportunity to vote on ballot propositions offered by their state parties. These propositions are non-binding and will not create law. Instead, they act as both an opinion poll and subsequent marching orders to show the Legislature which conservative priorities voters expect to be put into action. As we are a strictly policy-based organization, we cannot endorse in election races, but we can provide guidance on policy issues, which is what you'll find below.
We live in a time where Joe Biden and liberals across the country are attacking our Christian conservative values and targeting Texas. We have the conviction to be victorious in this fight; after all, this is a critical reason why the Freedom Caucus exists—to fight back. However, we can't do it without your input and consideration.
So, without further ado, please enjoy the Texas Freedom Caucus's 2022 Guide to Republican Party of Texas Primary Ballot Propositions.
Sincerely,

Mayes Middleton
State Representative
Chairman, Texas Freedom Caucus
---