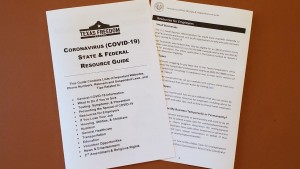 Dear Texans—
The situation unfolding before us is truly historic in nature. We're proud to see Texans rise up above it during this time of great need, and we want to make sure you have access to every resource available to help you through this. We have been monitoring the situation closely and put our resources together to compile this guide for you.
***To view the guide, please click here.***
We will update it as often as information comes in. We are praying for you and are doing everything we can in our power to get us through this. May God be with you during these difficult times.
For God, Country, and Texas,

Mayes Middleton
State Representative
Chairman, Texas Freedom Caucus
---