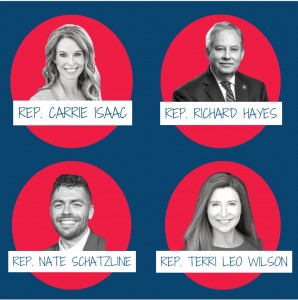 AUSTIN— Heading into the 88th Legislative Session, the Texas Freedom Caucus has expanded to include four new members:
Representative-Elect Terri Leo-Wilson (House District 23)
Representative-Elect Richard Hayes (House District 57)
Representative-Elect Carrie Isaac (House District 73)
Representative-Elect Nate Schatzline (House District 93)
"We are thrilled to add such a well-rounded group of legislators to the Texas Freedom Caucus as we continue our fight in the Texas House," stated Freedom Caucus Chairman, Representative Matt Schaefer. "Each of these legislators have demonstrated commitment to conservative and liberty-centered values as well as a firm understanding of our mission to provide the Texas grassroots with a voice within the Texas Legislature."
The Texas Freedom Caucus will enter the 88th Legislative Session with 12 members, the largest the Texas Freedom Caucus has been since its founding class of 2017. To see the full Texas Freedom Caucus membership, visit our Members page.
The Texas House Freedom Caucus' mission is to amplify the voice of liberty-minded, grassroots Texans who want bold action to protect life, strengthen families, defend the U.S. and Texas Bill of Rights, restrain government, and revitalize personal and economic freedoms in the State of Texas.
---