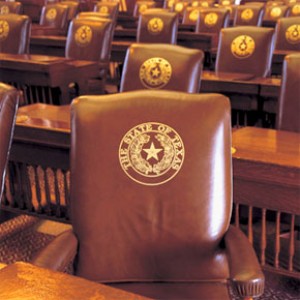 AUSTIN—Members of the Texas Freedom Caucus unanimously elected Rep. Mayes Middleton to serve as Chairman of the Texas Freedom Caucus in a special meeting held to fill the unexpired term of Rep. Mike Lang, who recently announced his retirement from the Texas House. Members also unanimously elected Rep. Matt Schaefer to serve as Vice-Chair to fill the unexpired term of Rep. Bill Zedler, who also announced his retirement, and Rep. Matt Krause as Secretary/Treasurer.
"I'm honored and privileged to be heading up the Freedom Caucus coming into the 87th Legislative Session," said Middleton, who is best known for championing a taxpayer-funded lobbying ban in the 86th Legislature. "The Freedom Caucus must stand for the values and freedom behind the original battle flag from the Battle of San Jacinto, which proudly sits in the House Chamber. Faith, family, free enterprise, fiscal responsibility, and freedom can't just be defended—they must be advanced. Everything from protecting life, to defending the Second Amendment, to protecting taxpayers by slashing waste, fraud and abuse of your tax money must be on the table next session."
Rep. Schaefer also commented: "We have work to do, and our eyes are fixed ahead to the challenges facing our state. Every Texan deserves our best effort to expand freedom and opportunity. I am proud to be a member of the Freedom Caucus. Good things are ahead!"
Rep. Krause echoed the optimism moving forward: "I'm excited to be a part of this great group of legislators and to continue to help preserve and expand freedom and liberty in our beloved State of Texas."
"It is our duty to make the defenders of the Alamo proud," said Middleton. "We will never back down from advancing liberty and making sure Texas never becomes like California."
The Texas Freedom Caucus' mission is to amplify the voice of liberty-minded, grassroots Texans who want bold action to protect life, strengthen families, defend the U.S. and Texas Bills of Rights, restrain government, and revitalize personal and economic freedoms in the State of Texas.
For more information or for press inquiries, please contact Mike Garcia, Executive Director, at (512) 645-6978 or at mgarcia@freedomfortexas.com.
###
---
Freedom Caucus Staff