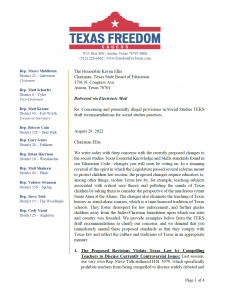 Fellow Texans,
Recently the SBOE began circulating draft changes to the Texas Essential Knowledge and Skills social studies standards that will be used to educate public school children across Texas. The proposed changes are unacceptable and in many cases illegal. Among other things, the changes require educators to teach:
That the Texas Rangers were used as "instruments of oppression"
Differing perspectives (such as that of the murderous tyrant Santa Anna) of the Battle of the Alamo
A de-emphasis of our society's Judeo-Christian values upon which our state and national governments were founded
Other currently controversial issues related to CRT that do not offer the opportunity for differing perspectives
The proposed standards also eliminate Texas history as a standalone course, in favor of intertwining Texas history with other historical subjects, in effect watering down our heritage and putting it on the same level as all other cultures. This is unacceptable—Texas is exceptional, and that should be reflected in our public education system.
We are watching these changes closely and will not hesitate to intervene during the next legislative session, should the need arise, to protect Texas children from being further indoctrinated and taken advantage of. We sent a letter to the SBOE demanding the proposed changes be substantially amended before further action is taken, and you can read that letter by clicking here.
We won't let this happen in Texas! Thank you for your continued support.
Sincerely,

Mayes Middleton
State Representative
Chairman, Texas Freedom Caucus
---