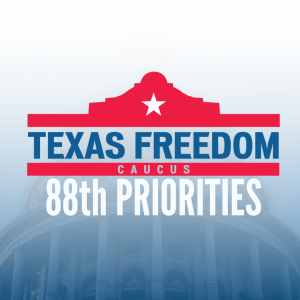 AUSTIN — Today, the Texas Freedom Caucus released its 10 priorities for this 88th legislative session:
MAXIMUM PROPERTY TAX RELIEF

Large cut in school district maintenance & operations property taxes with the goal of elimination
Reform the property tax appraisal process by lowering appraisal caps

SECURE THE BORDER

Declare an invasion and provide resources to the governor to take bold action under the U.S. and Texas Constitutions to actually prevent illegal border crossings and expel illegal crossers
Establish a permanent Texas Border Defense Corp
Fund and finish a border wall, and implement Texas version of Title 42 for public health

EXPAND EDUCATIONAL FREEDOM & END WOKE INDOCTRINATION

Parental choice in education with funding following the student
Expand vocational skills training in schools
Grant authority to the State Board of Education over content in instructional materials
Prohibit men from competing against women in collegiate sports
End woke indoctrination, and defund 'diversity, equity, and inclusion' (DEI) initiatives

PROTECT TEXAS CHILDREN

Ban abusive gender procedures on minors
Remove pornographic materials from school libraries, and ensure age safeguards in public libraries
Require 18 and up age verification for pornographic internet sites
Bolster school safety to address shooting incidents, and violent or disruptive students in the classroom

DEFEND THE SANCTITY OF LIFE

Abolish the distribution of abortion pills in Texas
Stop those aiding and abetting out-of-state abortions by enforcing Texas law
Reform the 10-Day-Rule to ensure end of life protections
Lower costs of adoptions

SECURE THE GRID & OPPOSE ESG POLICIES

Expand thermal electrical generation, including natural gas, nuclear, and geothermal sources
Reject ESG "social credit" policies that choke oil and gas development
Oppose subsidies for unreliable wind and solar projects

PROTECT SECOND AMENDMENT RIGHTS

Oppose red flag laws, and gun databases created by banks and credit card companies
Automatic reciprocity with other states for handgun licenses

INCREASE ELECTION INTEGRITY

Restore the felony penalty for voter fraud
Establish alternative methods to prosecute voter fraud when progressive DAs refuse
Strengthen the enforcement of election laws

RESTORE SEPARATION OF POWERS

Repeal the statutes allowing the governor to create a crime through the Emergency Management Plan
Give citizens standing in court to challenge disaster orders which deprive them of rights or property
Ban counties and cities from imposing vaccine and mask mandates, or closing businesses

HEALTH CARE AFFORDABILITY & MEDICAL FREEDOM

Prioritize price transparency, and affordability through competition
Ensure that vaccine laws guarantee personal choice and informed consent
These priorities are available on our website here. We've also published a guide for the grassroots.
Our mission is to amplify the voice of liberty-minded, grassroots Texans. We take bold action to protect life, strengthen families, defend the U.S. and Texas Bill of Rights, restrain government, and revitalize personal and economic freedoms in the State of Texas. Learn more about the Texas House Freedom Caucus here.
---