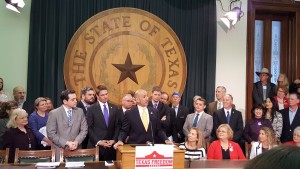 Legislative agenda built through grassroots engagement process
The Texas Freedom Caucus (TFC) on Thursday unveiled its policy priorities for the 85th Session of the Texas Legislature. The priorities are the result of a deliberate grassroots engagement process that engaged conservative activists throughout the Lone Star State.
"The Texas Freedom Caucus chose these priorities because they represent the issues of concern to the ordinary Texans who work hard and pay the taxes that we spend in Austin," said Rep. Matt Schaefer, the TFC chairman. "Our mission is to empower the grassroots through close engagement before, during and after the legislative session."
Rep. Jeff Leach, the TFC Policy Director, said the 12 members of the caucus work together to advance the eight priority policy areas identified in the grassroots engagement process.
"Our goal is to leverage our combined resources to ensure that the voice of the grassroots is heard in the Texas legislature," Leach said. "As members, we're committed to turning that voice into action in the capitol building."
The press conference can be viewed at the House of Representatives Website here.
The caucus priorities are available at: http://www.freedomfortexas.com/issues/
##
---
Freedom Caucus Staff