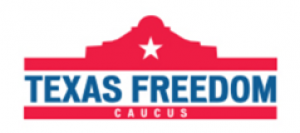 Do you believe that Texas must expand liberty for its citizens and be a better model for the rest of the country? Here is an opportunity to fully engage in that mission.
The newly formed Texas Freedom Caucus, established in February 2017, is seeking an Executive Director to help shape strategy, develop policy goals, communicate our message, manage day-to- day operations and further our mission to:
Amplify the voice of liberty-minded, grassroots Texans who want bold action to
Protect life, strengthen families, defend the U.S. and Texas Bills of Rights, restrain government, and
Revitalize personal and economic freedoms in the State of Texas.
The Executive Director will be someone who can contribute in the following ways:
Develop strategy and policy
Grassroots and coalition outreach
Logistics and event planning
Communications and media relations
Fundraising
Organizational management
What does the ideal candidate look like?
Liberty-minded
A self-starter with a solid grasp of the Texas political climate (or the ability to quickly learn the priorities of Texans and the state's political makeup)
Excellent verbal and written communication skills
The desire to work with varied individuals and coalition groups
An eye for detail and the ability to execute administrative tasks for the Caucus
The ability to manage teams while working in a fast-paced environment
Locate in Austin during legislative sessions (permanent residence in Austin not required)
Is this you? If so, we want to hear from you.
Highly competitive compensation package. Past work experience, level of education and demonstrated skills will be evaluated. We will pay for the value you bring.
To apply, please email a cover letter and resume to info@freedomfortexas.com (Please use the subject line: Freedom Caucus ED Applicant.)
Read our mission statement and get more info at www.freedomfortexas.com
---
Freedom Caucus Staff